Look here to find information on current projects happening in our community to enhance your water service.
"Subscribe" and receive updates on our Current Projects the minute they are posted. It's easy!
2021 Waterline Projects (3500 South Water and Secondary Water Project)
UPDATE 6/17/2021:
The contractor is currently installing water pipe in 3500 South between 7700 W and 7200 W. and has begun working on Montclair Street as of June 17th. They will be installing secondary pipe within Montclair St. over the next several weeks.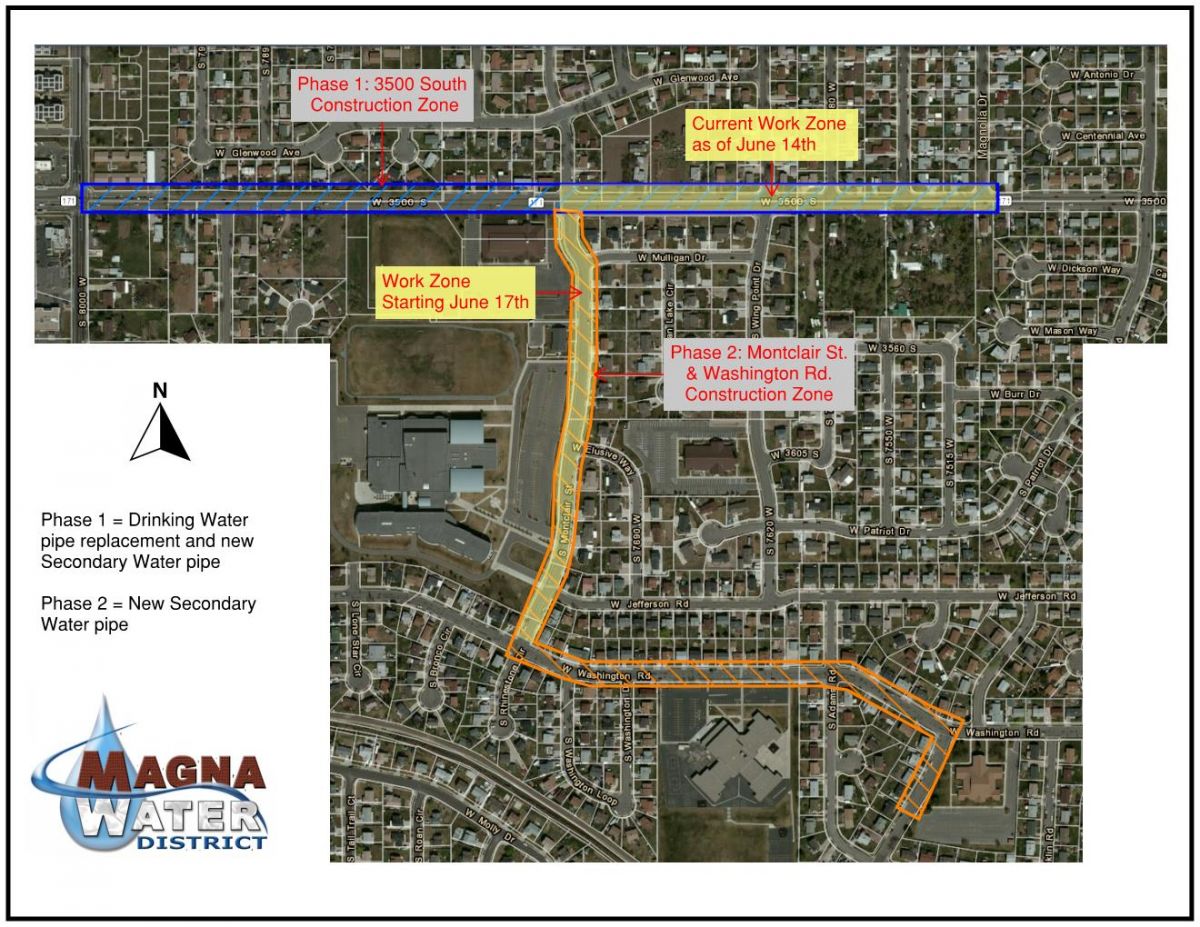 PROJECT OVERVIEW:
Starting in May 2021 Magna Water District will begin a drinking water and secondary water project. It is scheduled to be constructed from May 2021 to September 2021.
Construction will be within 3500 South between 8400 West and Magnolia Drive (7497 W) there will also be secondary water installed within Montclair Street (7730 W) between 3500 South and Washington Road (Approx. 3700 S) and Washington Road between Montclair Street and Valley Forge Road.
The map shown below has the full extent of the project (LINK TO MAP). As construction progresses there will be additional updates on any road closures or detours.
If you have questions or a request for additional information please contact us at 801-250-2118.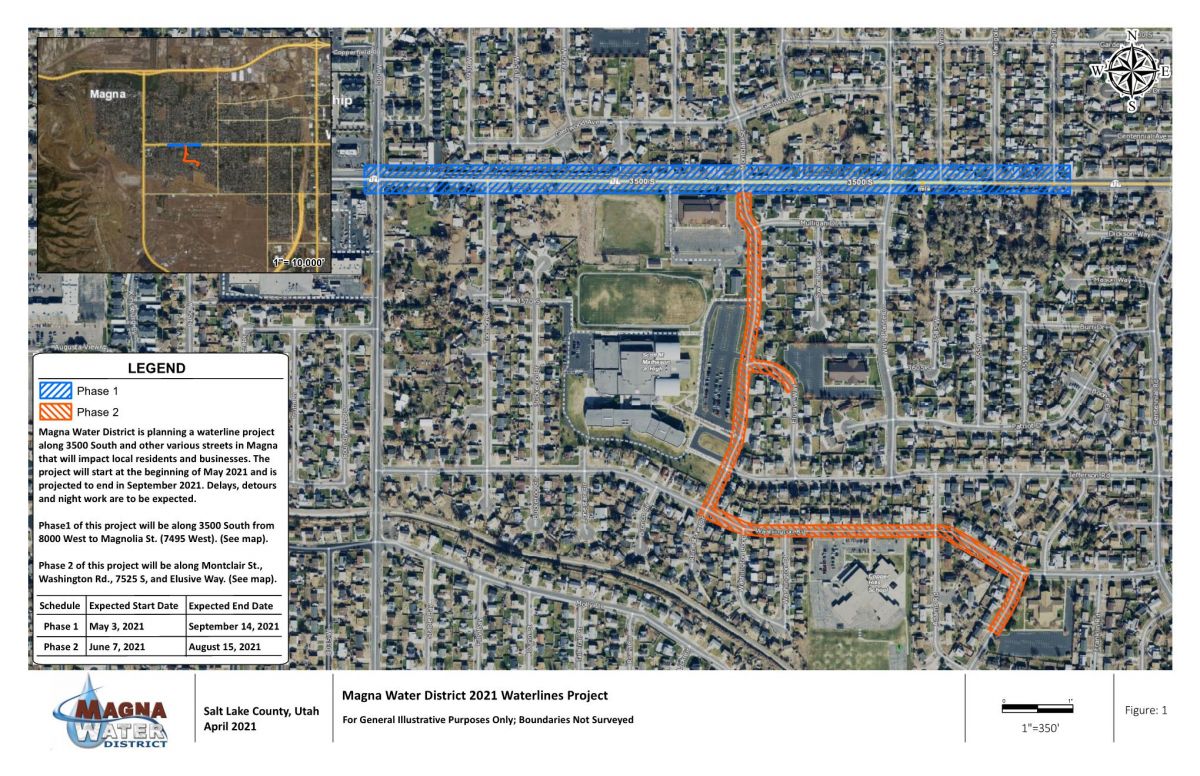 2021 Sewer Repair Project
Project Update 5/25/2021
This project is complete. Asphalt and concrete will be completed this week and all other items are complete.
The 2021 Sewer Repair Project consists of several spot repairs throughout the District. Two locations are along 8400 West (1. 8400 W and Western Drive, 2. 8400 W and 3370 So). 
West Side Collection Project 1A - 2100 South Sewer
The West Side Collection Project 1A is a 30-inch Sanitary Sewer Collection Main project. It will be constructed in 2100 South between 8000 West and 7750 West. The project is anticipated to begin in June 2021 and take approximately 2 months to complete.
Check back for additional updates as the project kicks off. 
4100 South Secondary Water
Project Update 4/27/2021
This project is complete. Asphalt was installed a few weeks ago and all other items are complete.
The new 12-inch secondary water line in 4100 South from 8400 West to 7656 West is almost complete. The last items are surface improvements such as concrete collars and pavement. We anticipate the contractor will be paving on 4100 South around April 15th when the temperatures are more acceptable for placing asphalt. 
Zone 3 0.75MG Drinking Water Reservoir
Project Update 05/25/2021
This project is nearing completion. The tank is complete and the contractor is finishing up pipe connections, final site work, and finishing touches on the valve vault. 
The District has teamed with DR Horton, Ensign Engineering, and FX Construction to build a new 0.75 MG drinking water tank to serve the southern area of the Districts service area (Zone 3). This project will help contunue the Districts level of service and allow for the new Gateway at Little Valley Development and future Cyprus High School. This project is anticipated to be complete in Spring 2021.